If this is your first time choosing Argyle Associates for your oral surgery in Ottawa, here's what you can expect. Your first visit will be a consultation. This is your chance to meet your surgeon, learn more about your surgery and ask any questions about the procedure or fees. This will also be our chance to review your medical and dental history and take any x-rays needed. The purpose of this appointment is to make sure you're feeling comfortable about your procedure and to ensure our team is fully prepared for the day of the surgery. This consultation usually lasts between 45 and 75 mins, please arrive 15 mins early to check-in.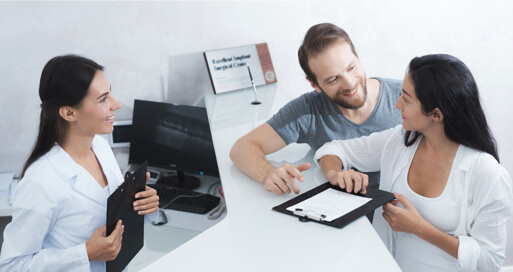 During your first visit
You'll meet with one of our Oral & Maxillofacial Surgeons to discuss your procedure. During this meeting, you can expect to:
Learn more about your diagnosis
Learn about your treatment options
Have your questions answered
Have your x-rays taken (if required)
When you arrive, check-in with our staff.
They ask you to provide them with a piece of ID and give you forms to complete before seeing the surgeon. After your consultation, you'll be charged a consultation fee and an x-ray fee (if any were taken), and you'll receive an accurate cost estimate for your surgery.
Items to bring with you
To ensure a smooth experience, bring the following items to your consultation:
Your surgical referral slip (from your dentist or doctor)
Any x-rays your doctor or dentist may have provided to you
A list of medications you are presently taking
Any necessary insurance forms, if you have medical or dental insurance
Your dental insurance forms
A piece of government official ID.
Same-Day Consulation & Surgery
Some surgeries can be performed on the same day as your first visit. This is usually reserved for minor surgeries that are not complex.
Certain treatment plans are complex and some patients have a complicated medical history. For these patients, we schedule a second appointment for surgery. This way, our team has adequate time to review and prepare for your surgery. Any patients undergoing IV anaesthesia or general anaesthesia much have a pre-operative consultation and physical examination.
Here's What You'll Want to Do Before Your Oral Surgery
Talk to a Friend or Family Member
Talk to a Friend or Family Member
Let someone know that you'll be here for oral surgery. For surgeries that require anaesthesia, you must be accompanied by an escort. After your surgery, your escort must remain with you for a minimum of 6-8 hours until the sedation wears off. You must not drive a vehicle or operate machinery for 24 hours after general anaesthesia.
Talk to Someone Who's Had Oral Surgery Before
If you're feeling anxious about your upcoming oral surgery, talk to a trusted friend, co-worker, or relative. If they've gone through something similar, they can let you know how their procedure went and what you can expect.
Talk With Your Workplace or School
Getting an oral surgery may mean you'll need to take a little time off from work or school. Get your homework assignments in advance if possible. Make sure your boss or teacher knows why you'll be out; Recovery time varies depending on the surgical treatment you're receiving.
Get Your Logistics Squared Away
In addition to your ride home, plan on not being able to drive for the 24-hour period following oral surgery and sedation. If you are taking narcotics for pain, you cannot drive under the influence of these substances. Prescriptions will be discussed in your consultation appointment so you should be aware of what medication you'll be taking. Plan accordingly so that you're not stuck at home. 613.778.8888 or email: patientservices@argyleassociates.com
Should You Need to Postpone or Cancel
If you cancel without advising an Argyle staff member directly by phone (email or voicemail are not accepted) at least two business days prior to the scheduled appointment – including no-show – a $100 fee will be charged. Please give us as much notice as possible so that we can accommodate you accordingly.
Payment is expected at the time of your surgery. Visa, MC, Debit, Certified Cheques and exact cash are accepted. Insurance forms will be completed at this time as well for your reimbursement. The person taking you home should be aware of this policy.
Contact Us Today
We will have one of our trained professionals get back to you as soon as possible.