We've Reimagined Our Carling Office!
Argyle Associates has reopened our Carling Office & Surgicentre West, newly remodelled and designed for your comfort, safety and convenience. Our goal is to better serve our clientele & community.
We've responded to your input as to what would make a more comfortable, welcoming Ottawa dental surgery clinic. You'll find updates & upgrades throughout the Carling facility, all designed with your comfort & well-being in mind.
Our reception and waiting area has been refreshed, with new flooring, lighting upgrades and a more spacious feel. While we aim for promote services, we want our patients to be comfortable at all times
As part of our ongoing efforts to provide the utmost in hygiene & safety, we have selected furnishings & materials that can be kept clean at all times – of course we continue to sanitize surfaces regularly.
As a leading Ottawa dental surgery practice, we are constantly making strides to improve all of our patients' experience. The newly remodeled Carling office reflects our commitment to excellence.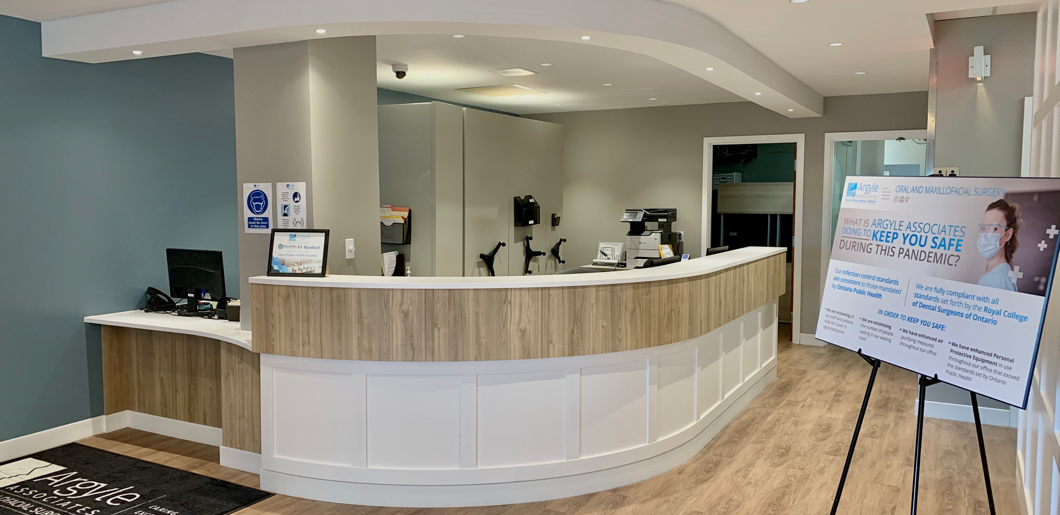 Services We Offer At Carling & Surgicentre West
Argyle Associates goal is to provide the closest, highest quality care to Ottawa residents with locations citywide. Patients have rated Argyle Associates #1 on RateMD out of all medical facilities and clinics in Ottawa for its excellent work & customer satisfaction with procedures in wisdom tooth removal, dental implants, TMJ dysfunction, and other dental procedures. Our top-rated surgeons perform over 2000 dental implants and thousands of wisdom tooth removals per year. Trust Argyle Associates for your oral surgery needs with the most experienced team in Ottawa. Come visit our Nepean Oral Surgeons and staff on Carling today.
100‐2255 Carling Avenue Ottawa, ON K2B 7Z5
Our Patient Services Department is open Monday to Friday 8am to 6pm.
Parking & Accessibility
Fully accessible
Free parking in lot